While thinking about the Covid crisis it is probably too easy to get caught up in the immediate issues that affect you, such as how to continue with your work or get hold of groceries that you need. Many of us get very focused on Government policy: when will the lockdown be lifted, how will it be lifted. It is too easy to forget the immense global dimensions of this crisis.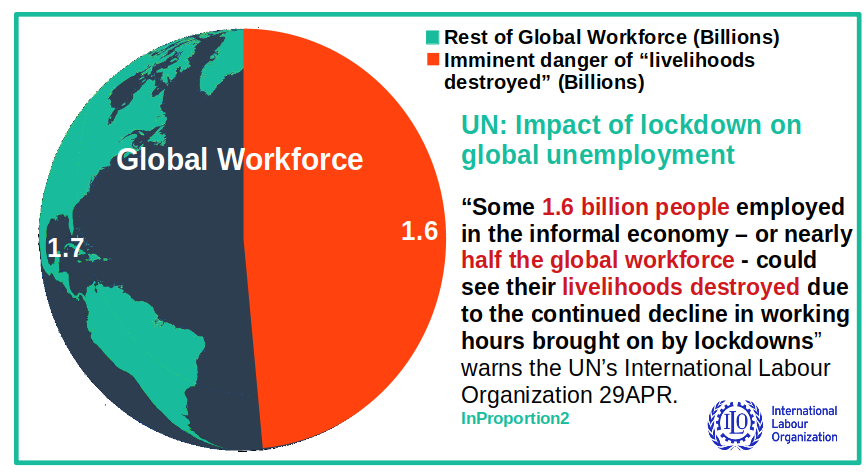 Last week the United Nations International Labour Organisation (ILO) produced a report that was shocking. Its chief findings did make some headlines before being shunted below other stories such as accounts of TV presenters who have caught a sniffle and will be tested for Covid. Perhaps most remarkable in the ILO report was the statement that half the people in the global workforce risks losing their jobs.
Anyone with half a grain of common sense will understand that the cost of anything like 1.6 billion people losing their jobs can only be vast, and will hit people all around the world hard, striking with premature death, hunger, sickness and poverty.
We should all at least question whether the decision to give our national economy and global economy such a devastating shock is justified. Those who say, "better safe than sorry", or refuse to be sceptical because the "lockdown saves lives" plain and simple need to wake up!
Other points in the report:
ILO estimates global working hours declined in the first quarter of 2020 by an estimated 4.5 per cent equivalent to approximately 130 million full-time jobs

Global working hours are expected to decline in the second quarter of 2020 by an estimated 10.5 per cent equivalent to approximately 305 million full-time jobs

Lower-middle-income countries are expected to suffer the most, but the impact is comparable across countries with different levels of income.

436 million enterprises worldwide are currently facing high risks of serious disruption.

The rate of relative poverty, (the proportion of workers with monthly earnings that fall below 50 per cent of the median earnings in the population) is expected to increase by almost 34% globally for informal workers, ranging from 21% in upper-middle-income countries to 56% points in lower-middle-income economies
**Sources: *